What is the Health Care Plan?
It is logical that healthy pets are happy pets. And we want to work with you to ensure your loved family member is as healthy and happy as possible.
We recognise that maintaining your pet's optimal health takes both time and effort.  But research has shown that, like us, your pets will benefit from a proactive approach. That is why we are offering the preventative health plan for your pets.
Unlimited consultations mean you never have to worry that you cannot afford to get even small issues check out, before they turn into large problems.
Yearly blood tests in adult dogs allows for early diagnostic screening. This means we can detect problems early and identify trends in health issues.
Discounts off food, parasite control and veterinary medicines as well as $100 off desexing or dental work, means the routine veterinary work easier to afford.
Monthly direct debits spread the cost of your routine vaccination and health care over the year, making it easier to budget.
How It Works
Happy Pet Plan is not pet insurance. It includes unlimited consultations (not after hours), routine care like microchipping and vaccinations, discounts off food, veterinary medicines and parasite control as well as a hefty $100 off desexing or a dental scale and polish.  These are things that insurance does not generally cover, but that you will be paying for anyway.
It is also designed so that the payments come out in a monthly direct debit, making it easier to budget for your routine care.
You can join at any time of the year, and it starts immediately.
What does it cover?
It covers your routine vaccination, microchipping and gives you a whopping $100 off your desexing or dental work.  Plus, you get unlimited consultations throughout the year.  Plus, in the adult plan, you get a yearly full blood screening. Plus you get discounts off your regular parasite control, veterinary medicine, food and vet products.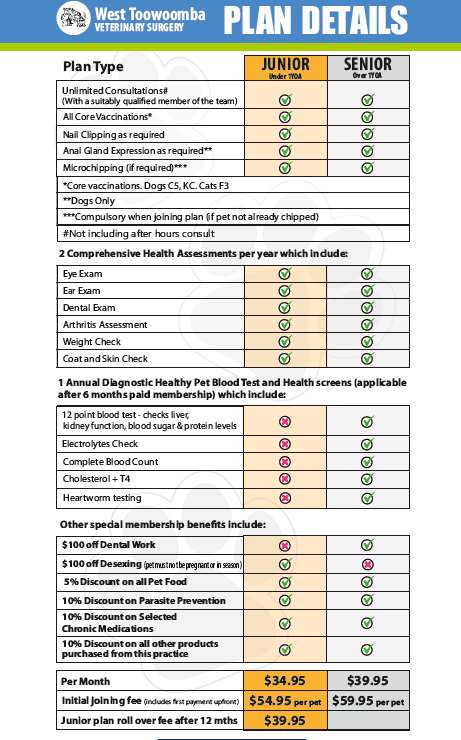 How much does it cost?
There is a $20 joining fee for both plans, which covers the cost of setting up the plan. The junior plan is the #34.95 per month and the adult plan is $39.95 per month.
The total cost, for the year is $439.40 and for the adult plan it is $499.40 in 12 easy payments.
How long does it last?
It lasts a full calendar year.  So, if you join your pet at 6 months of age, it will last a full year, not until they are 1 year of age.  However, if you join at vaccination time, your plan will last until your next vaccination.  The plan only covers 1 set of vaccinations per year.
What age animal is it designed for?
The junior (<1 year ) is ideal for your new puppy or kitten.  You would be paying for vaccination and microchipping at any rate, plus it gives you a great discount on desexing.  In that first year, there are many conditions that develop eg hip dysplasia, allergies or congenital heart problems.  These are best treated if they are picked up early or need to be monitored regularly.  You get the peace of mind that, at any stage in their first year, you can come down and get advice at no extra cost.
The other plan is designed for animals >1 year. These are usually desexed but benefit from regular health screening.    The regular blood work will pick up any issues that a clinical exam cannot. The $100 off a dental means that you can afford a regular scale and polish, preventing poor dental health.
Both plans also give great discounts on treatment and your parasite products.
Can I swap plans?
Talk to us if you want to put a younger animal on the older plan or visa versa.
Can I transfer the plan to another pet?
Unfortunately not, as the discounts are built into the pet.
Is there a discount for more than 1 pet?
No there is not a discount as there are great discounts already built in.
Can I join for less than 12 months?
No, it is designed as a 12 month plan.
How do I pay for my plan?
The plan can be paid for using a convenient monthly direct debit. There is an initial joining fee to set this up, then the amount will be direct debited from your allocated account.
What about next year?
Your yearly membership will automatically renew unless you advise us, in writing, within 1 month of your 12 month membership anniversary.   We will send you a reminder.   You will advised of any increase in the plan's price at this time.  Be advised that, if you are on the junior plan, the next year you will be charged the extra for the adult plan.
Can I cancel my plan?
You can cancel your plan anytime within the first 3 month's cooling off period and be entitled to a full refund of fees paid. However, you will need to pay full price for any services and products that you have already received.  This may leave some monies outstanding. This amount will be direct debited from your account, or will need to be paid at the surgery. After the first 3 months, you may cancel but you will be obligated to reimburse West Toowoomba Vet Surgery for any discounts received less membership fees paid.
What if my pet dies?
If your pet does pass away, you are able to terminate your plan.  We will adjust the amount outstanding on your membership.
Can I transfer the plan?
No, it is a plan based on your individual pet, and so cannot be transferred.