The West Toowoomba Veterinary Surgery is now owned by Michael Burke BVSc MACVSc and Christine Burke BVSc.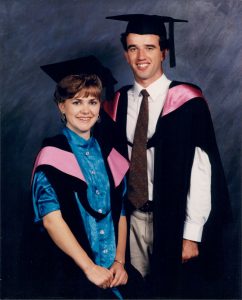 In October 1988, West Toowoomba Veterinary Surgery was founded by Bob Doneley. After more than 20 years working and developing this practice, Bob has decided on a change of pace and is now working for the University of Queensland Veterinary School. This has lead to us purchasing the clinic in October 2010.
We graduated from the University of Queensland Vet School in 1991, both with first class honours. After a year of working in Australia we travelled to England where we worked for 5 years. Christine worked primarily with small animals, while Michael enjoyed the challenge of mixed practice. We were lucky enough to practice in some very modern clinics and gained experience in small mammals and exotic pet medicine, which is standing us in good stead in our new endeavour.
On arriving home, we spent some time working in various country towns, before deciding that Toowoomba was the ideal place to settle and raise our family. By this time the first of our 3 boys had been born.
Michael began working at South Toowoomba Veterinary Surgery, where he stayed for 6 years before being offered a partnership at Eastwood House and Clifford Park Veterinary Surgery. While working at South Toowoomba, Michael completed a Post-graduate Certificate and then a Membership in Small Animal Internal Medicine. He has also recently completed a Small Animal Surgery post-graduate course.
Christine had time off from veterinary practice to raise our 3 boys, going back to work when our youngest was 2 years old. She joined Michael in partnership at Eastwood House where she has been working for the last 5 years. She is the Animal Welfare Officer for the University of Southern Queensland.
Currently we have a menagerie of 3 boys, a dog, 2 mad cats and assorted fish.